It's been 30 days since Pluralsight published my 4.5 hour video on Sencha Touch Fundamentals.  In this video, I teach the basics, starting from the very beginning of building a Sencha Touch application all the way through building a pretty sophisticated application.
That applications is currently in use as the Silicon Valley Code Camp Mobile App and can be run by simply going to the URL: http://svcc.mobi.  You don't need an account to use it, simply choose the "anonymous" button on the top right.  The app runs on IOS, Windows 8 Phone and Android.  You can also run it in certain desktop browsers including Chrome and Firefox but you'll need to simulate scrolling as if you were on a mobile device by click-hold-drag to scroll.  Here is a sample screen shot.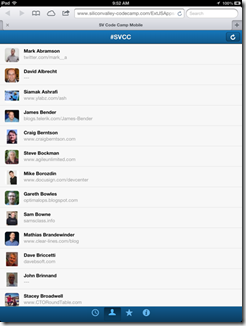 To get an idea of the type of content in the video, check out this free preview of how to do layout management in Sencha Touch. It's on youtube as a sampler.
Pluralsight does offer free trials so head over and give it a listen!